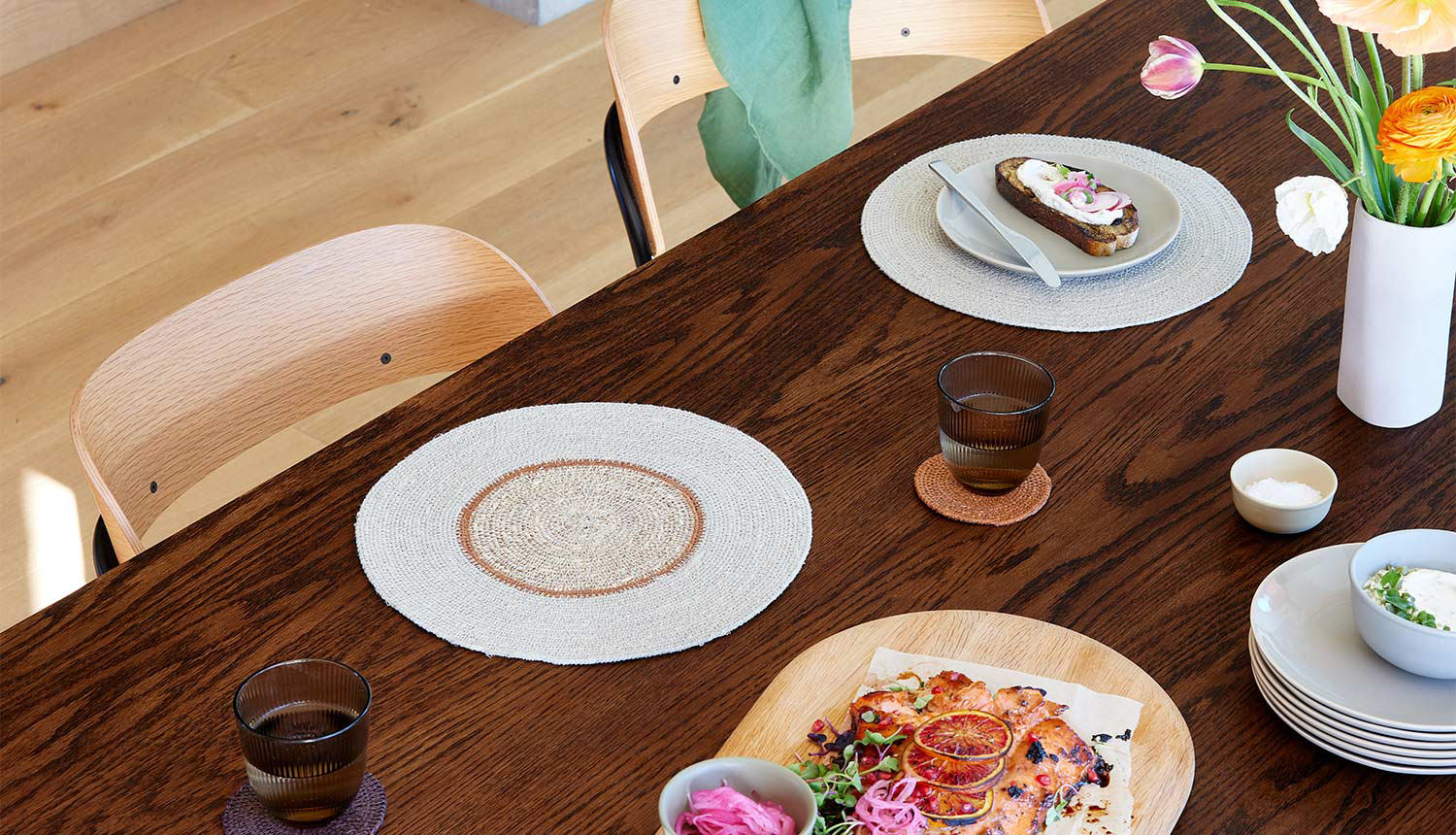 Inspired spaces with Alice Lines: Elevate your dining room with considered contrast
In our latest journal series, we're sharing styling advice from homestyle editor Alice Lines. This week, Alice shows us how to embrace design in the dining room. Learn how elements of contrast can add personality and provide the perfect backdrop for at-home entertaining.
Consider your surroundings inside and out when making decisions about your dining room material palette. Here, we set the scene for meals and making memories with a Tatamu table, its dark oak timber contrasting with the oak floorboards underfoot and offsetting the surrounding black window joinery. The push and pull of scale is a factor to take into account when selecting a table too—you'll want one that's large enough to accommodate all kinds of occasions yet still allows plenty of room to manoeuvre around.
Your dining table and chairs don't have to match—in fact, when they don't, they can bring more personality to the space; even timber in slightly different shades offers extra visual interest. In contrast to the straight lines of the table, the curved backs of these Trace dining chairs adds both appealing form and functional comfort to this set-up.
Rounding out the room, a Craft sideboard works as a sophisticated extra surface for storage, serving and display. The scale of the painting above—Shadow Games, by Helen Dean—balances out the relationship between the furniture in the room, drawing your focus into the space.
Whether a gathering is planned or pulled together at the drop of a hat when friends pop in, I like to elevate the experience of hosting by making the setting special—but never overpowering; in a way, you want the styling to fade into the background so the food can be the hero and the conversation can make the lasting impression.
Once you land on a look that works for you, I think it's totally acceptable to serve the same dishes in the same setting every time you entertain. I'm all for making life easy by repeating what you know works well. Think of it as creating your signature style.
In our next journal post, we turn to the living room. Alice shares her advice for creating a functional space thoughtfully layered with the things you love. In the meantime, view more here.

Art credit: Shadow Games by Helen Dean. Discover more from Helen online and on Instagram. Flowers: From Aila Morgan Guthrie's flower farm — Hands in the Dirt. Discover more from Aila online and on Instagram. Food: Gretchen Lowe. Discover more from Gretchen online and on Instagram.