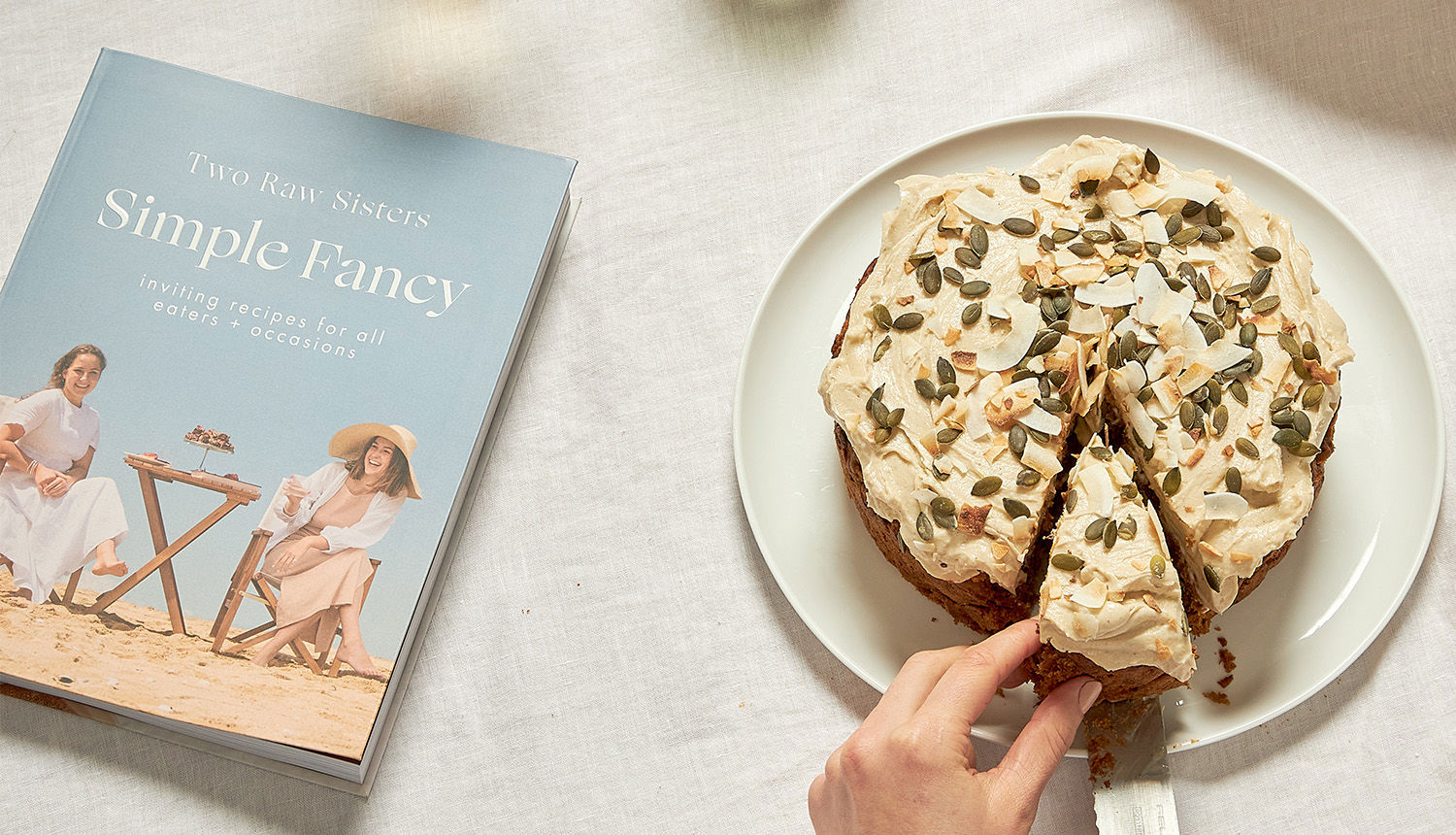 A conversation with: Margo & Rosa, Two Raw Sisters
Kia ora Margo and Rosa! Tell us about yourselves and what you do.
Kia Ora to you too Città! We are Margo and Rosa Flanagan, co-founders of Two Raw Sisters – the first place all eaters go to start with plants. Firstly, the number one question we always get… are you sisters? And yes, we are! We're both based in Christchurch, where we have our Two Raw Sisters test kitchen.
We're also 3x best-selling authors, with our fourth cookbook, Simple Fancy having just launched. We currently travel around New Zealand and Australia hosting sold-out cooking workshops to a large array of demographics, from schools to retirement villages and all things in between. Finally, we also have our app which has over 250 recipes.
Can you share a bit about your health and wellness journey.
Rosa was an elite athlete and represented New Zealand in 3000m steeplechase. She gained a very obsessive relationship with running, training more than what was on her programme and eating less. Effectively, she developed a condition called RED-S (Relative Energy Deficiency in Sport). This means there is an energy mismatch between what you're putting in through diet versus what you're putting out through exercise.
I, Margo was the complete opposite, I have chronic fatigue, a chronic version of glandular fever i.e profound fatigue, sleep abnormalities, pain and other symptoms that are made worse by exertion. I also have endometriosis, which is a disease that occurs in 1/10 females. Figuring how to manage my excruciating pain and side effects such as bloating, mood and anxiety as to when the next flare-up would come was a challenge.
We were both at the peak of our illness when we were introduced to gut health. Long story short, Rosa had multiple parasites in her gut, and I had a big fungal overgrowth in mine. From there we realised the power of the gut, the impacts it has on the body and the importance yet simplicity of eating more whole unprocessed ingredients. Fixing the root of the problem rather than always putting a band-aid over it was the key to our recovery.
Tell us the story behind Two Raw Sisters. What was the inspiration and how was it conceptualised?
Never did we ever imagine starting a business together! When we were both recovering from our illnesses, Two Raw Sisters naturally developed from an idea into a business. We could see most people got stressed out around 'healthy eating' or that to be 'healthy' meant eating lettuce leaves or spending a fortune buying ingredients like nuts and seeds to make the recipes. We wanted to debunk these myths. We also wanted to help people create a sustainable lifestyle they could maintain and enjoy, i.e., no fad dieting or eating boring 'healthy' foods.
We found most Kiwis start their meals with meat, making the plants the last-minute, boring side. It was a no-brainer for us to create a business that put plants first but at the same time, welcomed all eaters to use our recipes, with no judgements, as we're not vegan or vegetarian ourselves. We only cook with cheap, everyday ingredients people are familiar with, using them in new and inventive ways to make plants the centrepiece on every plate, then give you the option of adding your choice of protein on the side.
How do you decide on your collaborations/what do you seek in them?
We are very selective with who we collaborate. Both brands must align and have similar core values so that it develops into a long-term relationship rather than a single one-off campaign.
Tell us about your favourite local summer produce and how to use it.
We love going to the market on the weekends to get our produce. We only buy what is cheap because it means it's in abundance and at the peak of its season. We can't go past a salad full of vibrant summer produce grilled on the BBQ, crunchy nuts and seeds, fresh herbs and a delicious dressing.
Do you have a favourite recipe from your new cookbook?
That's like choosing your favourite child! Rosa makes all the savoury recipes and I do all of the sweet, so it's only fair we choose from each section.
Margo - Dark Chocolate Tahini Parfait. The best, most satisfying dessert to have after dinner. It isn't too sweet and is a prime example of a super simple, yet fancy dessert. It only requires four everyday pantry ingredients and takes 10 minutes. I love that all of our desserts only use unprocessed, unrefined ingredients that are cheap and readily available.
Rosa - Spiced Chickpeas, Pea Hummus & Chopped Salad. This is going to be our new go-to nibble or light dinner when entertaining this summer. Platters are great but can be fiddly and expensive getting all the different bits and bobs. This recipe is so simple and looks super impressive. Serve with sourdough or seeded crackers, and everyone is happy!
What helps to keep you both grounded when you spend a lot of time sharing your knowledge and giving yourself to others?
I would describe us both as introverted extroverts, so getting our 'off' time is important, so important that we do these things daily. Rosa is an active rester, she loves going for runs, walks, doing yoga and getting away on her farm in Timaru. I am more of a relaxed rester, I love going for a float, or sauna, meditating, doing yoga, walking or getting a coffee and reading my book. Creating time to step away and switch off is something we have found non-negotiable for us to stay in optimal health, both personally and professionally.
Tell us about the best part of what you do.
Inspiring and educating all eaters to start with plants. We love that we get all walks of life coming into our kitchen, from meat eaters and passionate foodies to vegans and people who haven't stepped foot in a kitchen. They all leave feeling extremely motivated on how to cook plants in a delicious, exciting way. Most importantly, they leave with the skills and knowledge to implement into their lifestyles immediately.
And on the flip side, what is the most challenging part?
Everything has its ups and downs depending on what time of the month it is. We constantly have a lot going on and always have weird and wonderful things we'd like to do. The biggest challenge would be reining it in and refining the business down to doing a few things at an outstanding level, rather than a large variety at an average level.
Where do you see yourselves in the next five years/what are your aspirations for Two Raw Sisters?
Rosa and I are still so young, the beauty of that is we can shape Two Raw Sisters to suit us. Rosa and her partner, Rupert are on a farm in Timaru, so she wants to move down there permanently. Whereas my partner Will and I want to travel and explore the world. Creating platforms that can be 75% run from anywhere in the world is at the forefront of our 5-year plan. We're expanding into Australia and have more cookbooks in the pipeline. We'll continue to do two national tours a year and implement some major improvements to our App. These are very exciting things that we cannot wait to roll out and share with you all! Keep up to date @tworawsisters or tworawsisters.com.