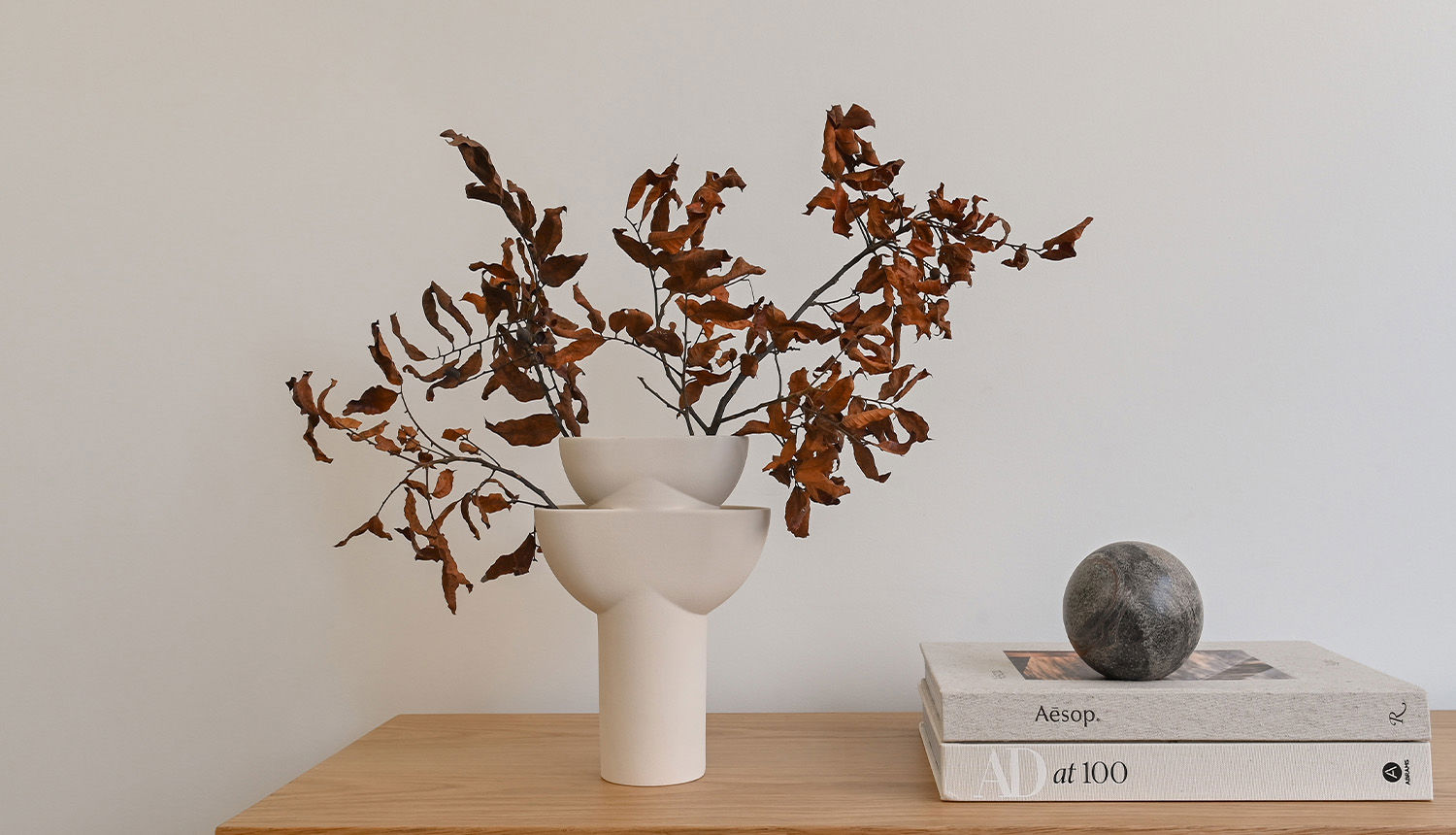 Behind the design: The Design Chaser x Città
This year we collaborated with Michelle Halford, founder of The Design Chaser, to create a vase with Citta's design team that was both beautiful and purposeful. In our latest journal post, we go behind the design of the new Terrace Vase and get to know Michelle.
Kia ora Michelle, tell us a bit about yourself.
I started my online platform The Design Chaser (TDC) over 10 years ago as a way of sharing what I loved, in the hope of inspiring others. As my following grew, it pushed me to branch out and eventually led to what I am doing now — styling interiors. This involves working with brands here and overseas on art direction and content creation, as well as working on residential projects, sourcing products and creating custom design solutions.
Where did your love of design come from?
I've always been creative and had an eye for design. Even though I went down different paths, that pull was always there. When I finally followed my gut, it was the best decision I ever made.
Talk us through how this collaboration came to fruition?
It was quite some time ago now, but I was chatting to Città founder Margot Acland at an industry event, following a trip to Copenhagen. We got to talking about travel and product design — the latter being something I had wanted to try my hand at for some time. She asked whether I'd like to collaborate with Città on a product, and I jumped at the opportunity. I met with in-house designer Nikolai Sorensen soon after, and it developed from there.
Tell us about the inspiration behind The Terrace Vase.
During the initial brainstorming, Nikolai and I quickly discovered we were on the same wavelength in terms of materials and direction. Deciding to work with ceramic, we wanted to create a sculptural object that was both beautiful and purposeful. Naturally this led to talk around a vase, a product that can create impact on its own, and be used to house flowers and bring nature indoors. It also needed to complement the existing Città range and have a point of difference. Through a process of sketching and working with clay, a geometric theme started to emerge with three forms — a cylindrical shape and two semicircles. Drawing on my love of Nordic design with a clean minimal aesthetic, that is right at home with Città, the rounded forms were also inspired by biophilic design which centres around a connection to nature. Using 3D modelling, Nikolai then explored a series of iterations, which led to us refining one final model that had a two-tier design and top and bottom openings. With an architectural quality that reminded us of terraced buildings, the vase is sculptural, functional, and unique — everything we had set out to achieve.
What are some of the sources of inspiration for your work?
I'm visually driven, so I consume a lot of imagery online, but I'm also an avid reader and love collecting design books and never miss an issue of my favourite Scandinavian publications. My main source of inspiration is interiors, predominantly Nordic, Japanese and Belgian design, but I'm also inspired by art, architecture and nature.
What's your favourite way to style The Terrace Vase?
I find branches or fresh flowers that have an organic, sculptural quality tend to work beautifully with The Terrace Vase. I aim to create spaces and vignettes that are elegant yet relaxed, with lots of textural elements, and this vase lends itself perfectly to creating that look and feel. Not only that, I love how the two openings provide opportunity for experimentation and play and therefore a greater connection with the design. But equally, that it can be displayed on its own within a vignette, as a sculptural piece.
Do you have a favourite colourway/finish?
I love them all for different reasons, but the beige has a warmth to it that is particularly appealing.
Lastly, what's something you took away from your experience of collaborating with us?
It's been a privilege to collaborate with a renowned New Zealand brand and to learn from someone as experienced as Nikolai. Also, patience pays off! The vase design was technically challenging due to the top and bottom openings, and this resulted in a lengthy design process and manufacturing time with the Portuguese factory to get it right, along with plenty of pandemic delays thrown in. Learning that complexity in design can equate to simplicity and pure forms, and to see the final product finally come to fruition has been really rewarding.