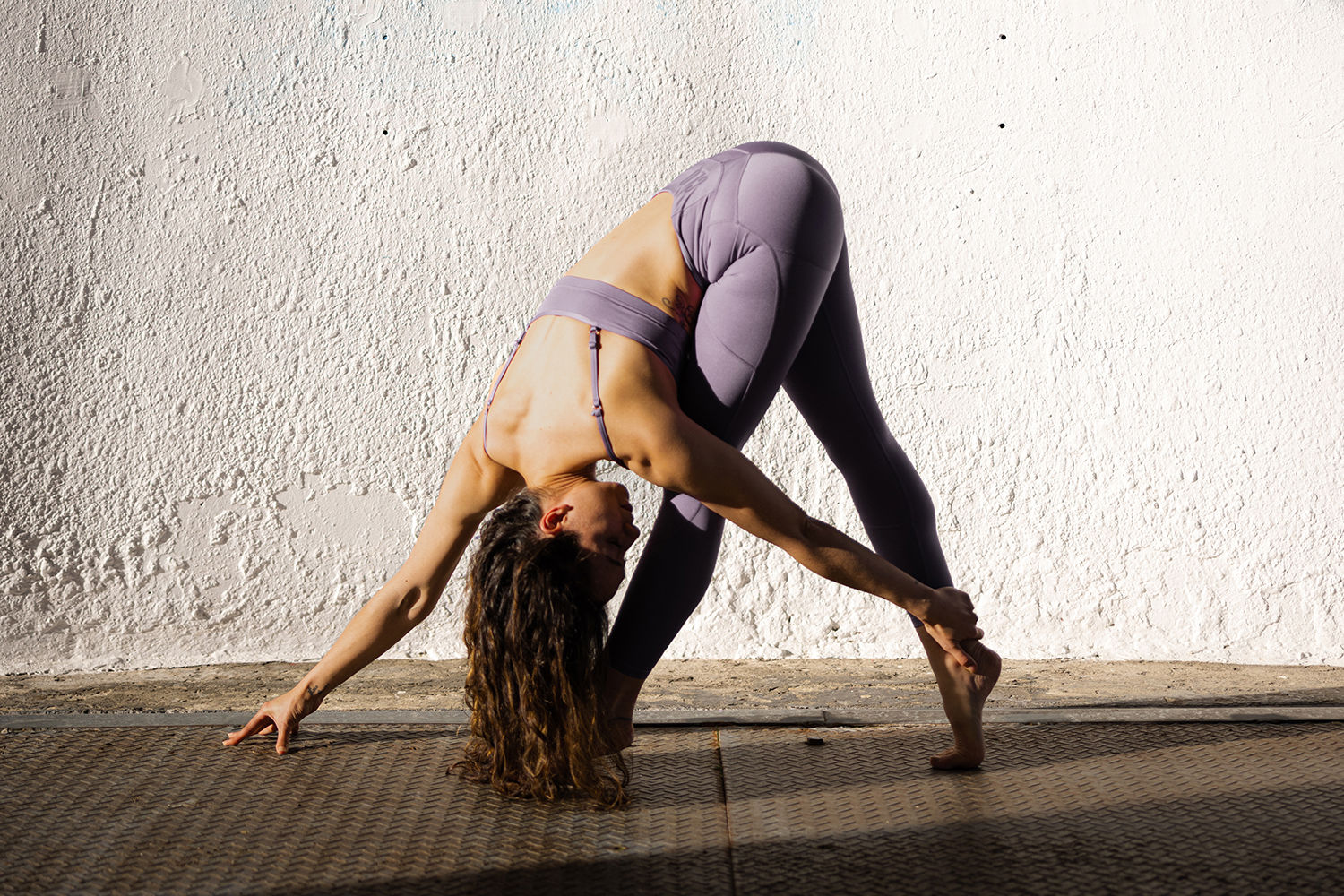 A conversation with: Samantha Veitch, Matariki & Yoga
Kia ora Samantha! Tell us about yourself and what you do.
Tēnā koutou,
He mokopuna tēnei o Toroa
He uri ahau no Te Moana-a-Toitehuatahi
Ko ngati awa te iwi
No Aotearoa, Kotirana me Iuropi ōku tipuna
Ko Wairaka te wahine rangatiratanga
Ko Samantha hoki ahau
Kia ora, my name is Samantha. The above is an abbreviated version of a traditional Māori greeting. It speaks to being a descendant of Toroa, the captain and chief of my tribe's waka, Mataatua. I come from the Bay of Plenty where my Mother's iwi Ngāti Awa is home. My ancestors are both from Aotearoa, as well as abroad from Scotland and Europe, where my Father's whānau eventually settled in the South Island. Wairaka is one of our female leaders.
I am nothing more than a human searching for joy, fulfilment and connection within te āo hurihuri (an ever-changing world). Aside from being a daughter, sister, lover, friend and dog mum, you'll likely find me reading books, surfing, teaching and practising yoga, working with rangatahi (youth) and sharing my knowledge of te reo Māori with people online.
Can you share a bit about your reo journey? Have you always spoken the language?
I learnt Māori and English alongside each other growing up as my Mother ran a full immersion te reo Māori pre-school known as Kohanga reo. Māori was the language I spent most of my time with as a child, but aside from that, I had a very European school life having never attended Māori medium schools.
I feel very lucky that my Mother spoke to us all the time in Māori, so even though I wasn't raised in a kura (Māori language school), I still had access to the language. It's only as an adult that I've realised how many of my Māori brothers and sisters didn't have the same access. It's been really important to me to continue to learn and expand my own language whilst helping others, to maintain the flow of mātauranga (Māori knowledge).
What does Matariki mean to you and how will you be spending the time?
Matariki is the Māori name for the star cluster most commonly known around the world as the Pleiades. Traditionally, Māori use the rising of Matariki in alignment with the Māori lunar calendar as a way to understand their geographical location, to tell the time, day, month and season, and as a marker for the New Year.
To me, Matariki is an opportunity to lean into the knowledge from the past and use it to help guide and shape our future. Acknowledging those who have passed on within the last lunar year, spending time kanohi ki te kanohi (face to face) with friends and whānau, and creating goals for the future where our communities and environment both prosper.
I was lucky to bear witness to a traditional umu kohukohu whetū ceremony very early on Tuesday morning. Here, karakia (prayer), waiata (song) and haka are offered to the stars of Matariki as well as an umu (earth oven) which is filled with kai in honour of the different natural realms some of the stars govern. The steam from the kai rises up to the sky to feed the cluster of stars in thanks for the abundance they have provided.
My wish is that Matariki will bring people closer to each other and the environment. I hope the instalment of this new public holiday will be a strong step for all indigenous people towards integrating their culture and traditions into the western world we live in.
When did you first discover yoga?
I found yoga almost 10 years ago now, searching for a form of movement that gave me more fulfilment and meaning beyond aesthetic or physical gain. I never enjoyed the idea of our bodies being shaped and formed through exercise for the sole purpose of looking a certain way. Practising yoga was like coming into a space and moving purely for joy. I've never looked back and it's a sacred practice I'll keep forever.
How has your understanding of the practice changed from being a student to now being a teacher?
As a student, I was fascinated by the combination of movement and spirituality and how teachers were able to interweave them so seamlessly. Like many, I thought I had to be 'good' at yoga, so I dedicated myself to the practice. Over time I realised the only thing I had to be was myself.
As a teacher, I'm still fascinated by the practice and its ability to nurture and evolve us. Now I see the practice as a friend who offers you exactly what you need in every given moment - maybe today you need to sit in stillness, perhaps tomorrow it's a dynamic movement, next week it may be pranayam (breathing). Whatever it is you're experiencing, yoga can support and guide you, all you have to do is listen. That's what I love so much about it.
Can you explain maramataka yoga to us?
Maramataka (Māori lunar calendar) yoga is the way I theme and structure my offerings - from the chosen postures, what I speak about and how I set the tone is embedded into the moon phase we are currently in. Within the Māori lunar calendar, each new moon brings a different type of energy and indications of how we can thread ourselves into our environment.
Yoga has always felt like home for me as Māori culture is also very holistically driven. Rather than separating mind and body, we look at the complete self to find total wellbeing. So incorporating elements of my culture into the way I teach felt very intuitive and authentic. I want to offer up a piece of myself each time I facilitate a class so that the experience is more than just movement.
You infuse your yoga classes with te ao Māori – describe the intention behind this and what people can expect in a class.
My initial intention behind this was to enable those who live in Aotearoa who maybe haven't experienced much Māori culture to be able to learn more about the richness that is matauranga Māori, and perhaps spark an interest to learn more on their own. I also believe for people to feel as though they belong, representation must exist. Offering this practice through a Māori lens allowed me to bring more diversity into the yoga community.
My classes begin with the intention of the practice grounded in maramataka. Each class begins with a discussion around the current moon phase and how we can let our environment inform and lead us into a deeper connection to ourselves and each other.
From there I offer a bilingual class, sometimes trilingual when I use the ancient language of yoga, Sanskrit. Using te reo Māori throughout my class is the continuation of weaving myself into this practice - an intentional way I create and hold the energy of the room whilst being true to myself. I love that I can come to work and be fully grounded in my culture.
The incorporation of taonga pūoro (traditional Māori musical instruments) into my sound-infused classes is another way I weave my culture in. Sound is an important connection to the origins of Māori culture as we come from oratory beginnings, and our knowledge is shared through song and stories, so learning and creating using these taonga is special to me.
Teaching bilingual and sometimes trilingual classes must come with its challenges. How do you navigate this?
It can definitely be a lot as you're essentially speaking double the amount if you only taught in one language, so it's a bit of a mouthful for myself and my students I'm sure! Being bilingual it's relatively easy for me to flip between English and Māori, the main thing I'm always aware of is speaking clearly, always offering a translation to English and giving an opportunity for clarification and questions to come after class if needed.
Tell us about the best part of what you do.
Everything I do is for the betterment of Māori culture and therefore its people - to give back to my community as well as decolonise the minds of those who have never known te ao Māori (the Māori world). Sharing the beauty of my culture every day I am at mahi is truly the best part about what I do.
You do a lot of important work through The Kindness Institute which focuses on mental health and mindfulness in youth. What called you to this line of work?
Rangatahi are the future generation of leaders. Giving them a head start in being able to understand themselves and their emotions, whilst providing them with the tools to help navigate the world around them is key to setting us all up for a brighter future.
There are so many talented youth who come from marginalised backgrounds or don't believe what they have to offer is of worth. All I'm doing is lifting the cover they have over their eyes so they can see themselves more clearly.
What helps to keep you grounded when you spend a lot of time sharing your knowledge and giving yourself to others?
Making sure I have enough time each week to fill my own cup is so important. Funnily enough, for someone who speaks a lot for work and is constantly interacting with others, I'm actually a bit of an introvert. Taking time out to be quiet, read or do something that fulfils me like my own yoga practice or learning something new (currently it's guitar) helps to keep me grounded.
Lastly, where can people experience your yoga classes?
I'm currently teaching at three studios in Auckland - Sala, Studio Red Wellness and Sweat. However, I have a bunch of free online classes you can find on Instagram (@samanthaveitch) if you don't live in Auckland or are a bit nervous about attending a studio. Yoga truly is for everyone, so if you're curious, I encourage you to give it a go.
Follow Samantha on Instagram to discover more of her work and practice.
Photography by Ben Mikha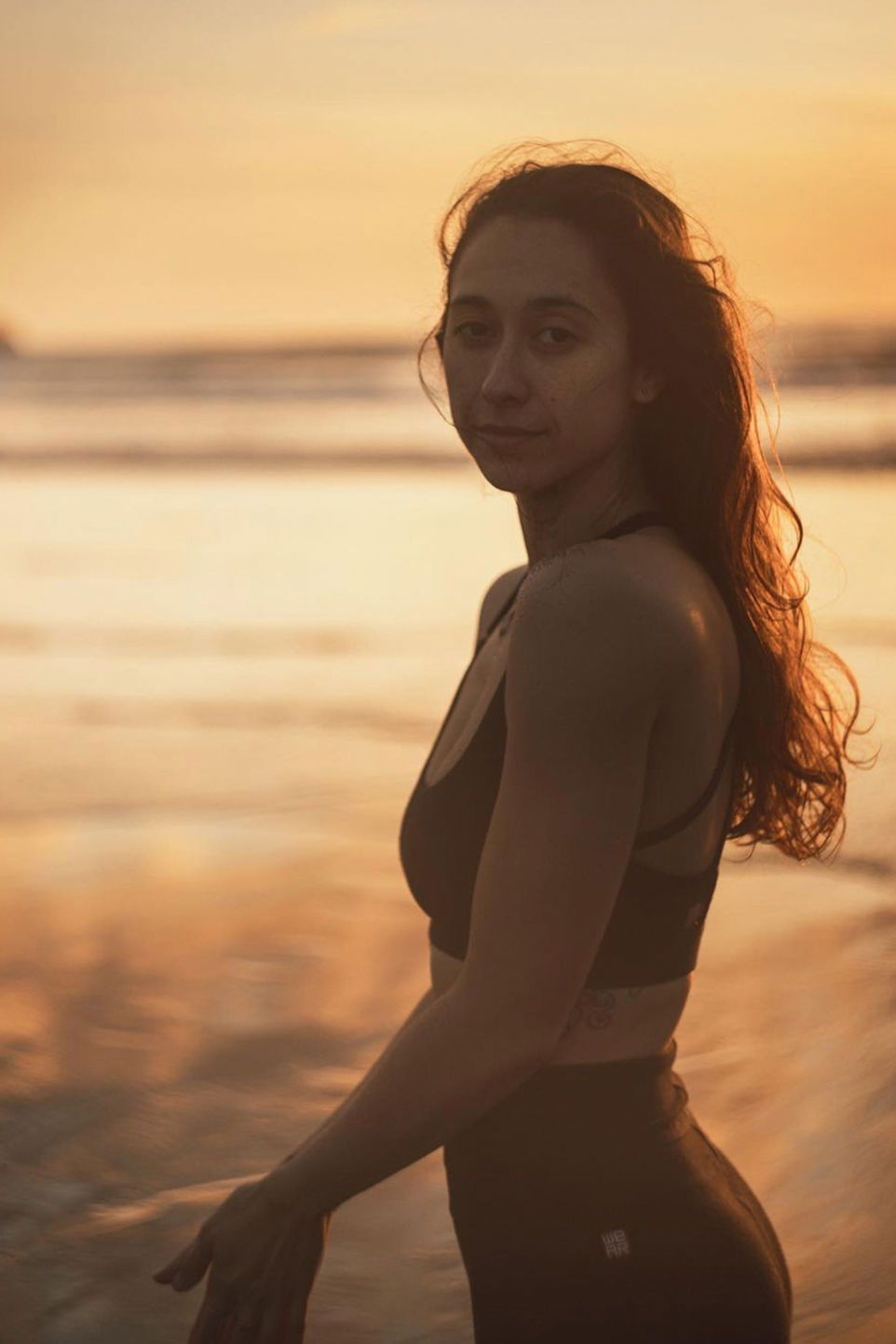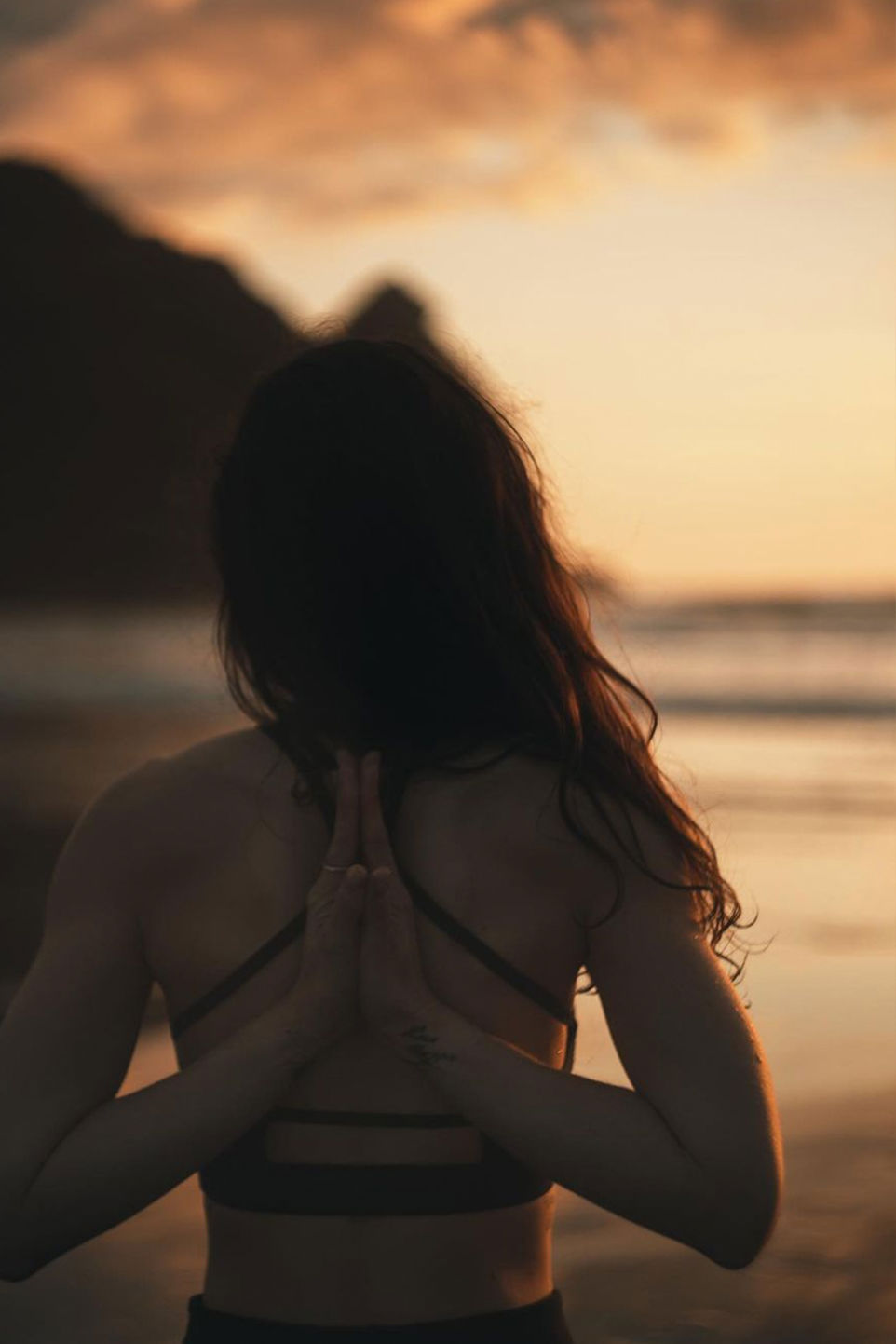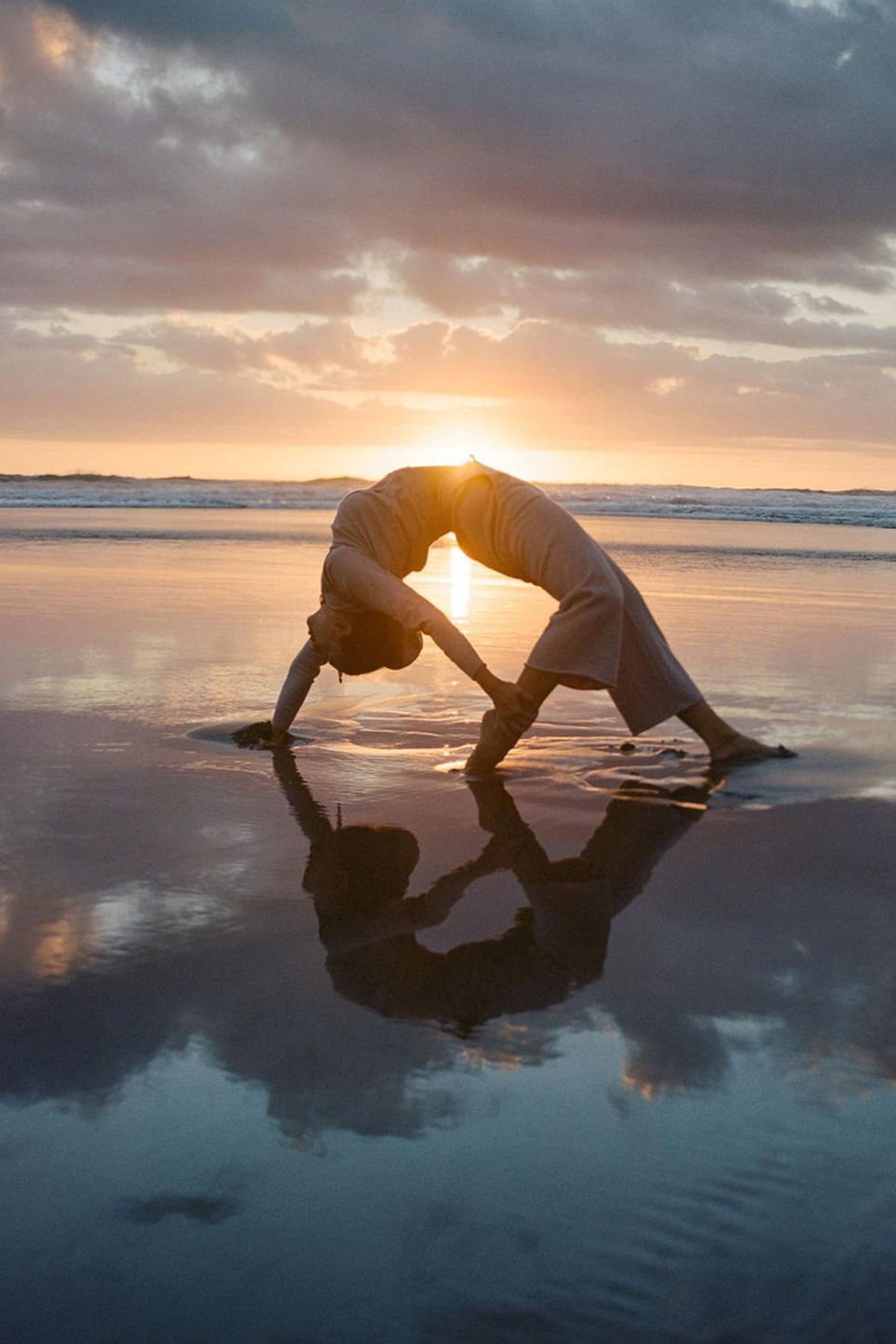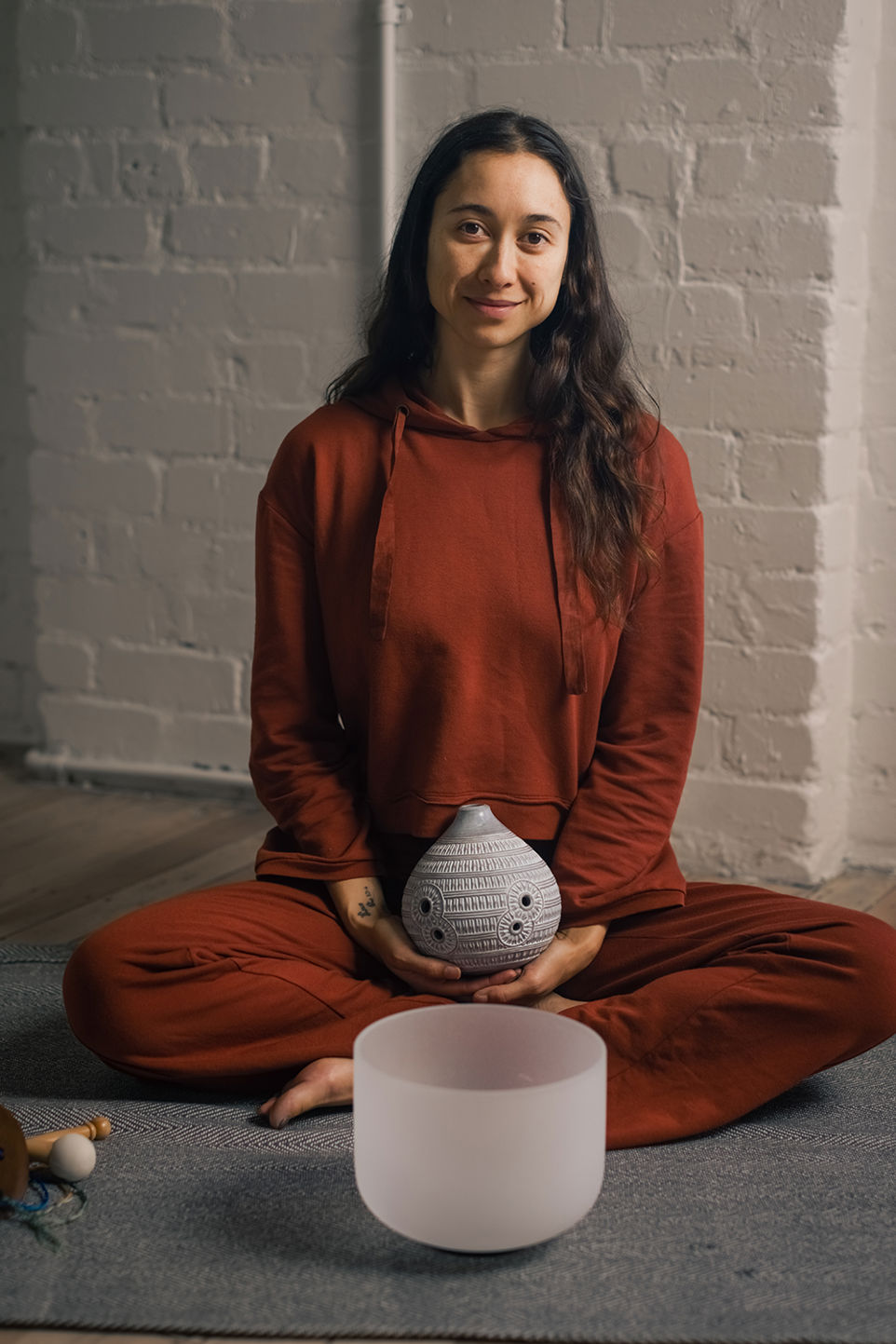 Samantha with her taonga pūoro, a traditional Māori musical instrument