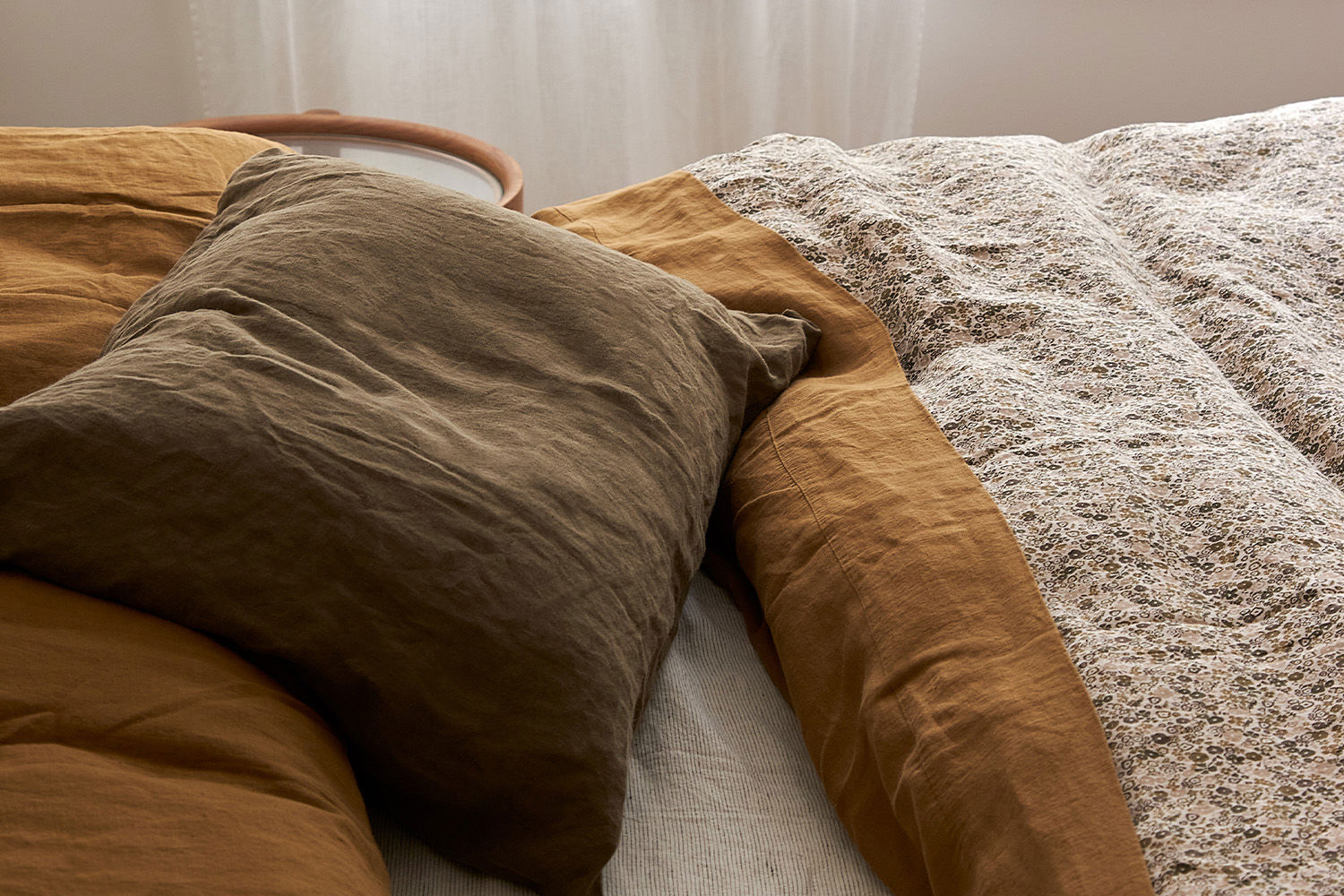 How to style our new coloured bed linen
Kia ora Fede, tell us a bit about what you do here at Città.
I curate all the Città stores' visuals, displays, and layouts making sure our designs look inspiring and well put together. My main focus is to always create a beautiful and pleasing atmosphere in stores for customers while they shop with Città. I love my role here at Città because one day is never the same as another, and it's very motivating to work alongside other creative and talented people.
What tips do you have for styling our new coloured linen?
I love to work in layers when it comes to colours. I like to start by selecting two to three colours based on the mood I want to create and build the look from there. To create a good visual balance and harmony in the room, the 60-30-10 rule is generally a good rule to follow.
I start with a dominant colour, which should cover 60% of the room, followed by the secondary colour, which can be a bolder choice. Finally, the accent of colour to complement the look, found in cushions, rug, throws and accessories. It's like painting a canvas, you begin with the main colours, then look at it from a distance and add final touches. It's always important to maintain a good balance. The basic rule is "less is more" but remember to choose your less with care.
What combinations work best with the Spearmint colourway?
Spearmint is a surprisingly versatile colour that goes well with both warm and cool hues. Our Ochre pairs well with Spearmint, but it's important to keep in mind the general colour palette of the bedroom it will go in. I also like Spearmint paired with Puddle, the Pinstripe range, and an accent of Ochre.
What are your favourite colours to work with in spring and summer?
I love the Ochre colour, it's perfect for the warmer months. I like to use it to add a vibrant accent to every look. It's a beautiful earthy colour that adds warmth to any colour palette.
How would you create a calm and relaxing atmosphere in the bedroom?
The best tip is to choose a tone or colour that you enjoy being surrounded by, followed by adding a bit of your personality to the space through décor and accessories. Soft neutral tones tend to work best in bedrooms as they create a calming atmosphere and encourage people to relax and unwind. This doesn't mean you should be afraid of colours; they can be really fun to use in the bedroom. It's also important to choose suitable lighting for the space, as this will ensure the room is bright enough during daytime without causing glare or making it difficult to read at night.
When selecting the bedding for your space, keep in mind that your sheets need to be high-quality and durable to provide a better sleep quality. Linen bedding is a great option to create a relaxed look due to its relaxed hand feel and softness. The furniture and décor ideally would be kept to a minimum to avoid it feeling overcrowded. Lastly, plants should be the finishing touch to any space.
What are the best colours for something a bit more fun and cheerful?
Colours are fundamental in our lives and can positively affect our mood. Natural hues create a relaxing, calming atmosphere, so I would encourage using them throughout your home. This year, we're seeing more beautiful bright colours that add a fun and cheerful accent into any space such yellow, light muted green, dusty teal, and lavender. A great way to explore colour in a space is with accessories, cushions, throws, and curtains. If you're feeling more adventurous, create a statement bedroom by painting the walls in a more bold colour. The Città bed linen colour combination of Spearmint, Sea and Thistle will add a refined yet fun colour palette to your space.
Lastly, what is your favourite Città colour palette to dress your bed?
My bedding style is different every time, there are periods where I like a minimal, crisp white look, other times I love colours on my bed with a few extra cushions in various sizes. My favourite combination at the moment is our Ivy linen as the main colour, paired with warm tones like Toast and Oatmeal.