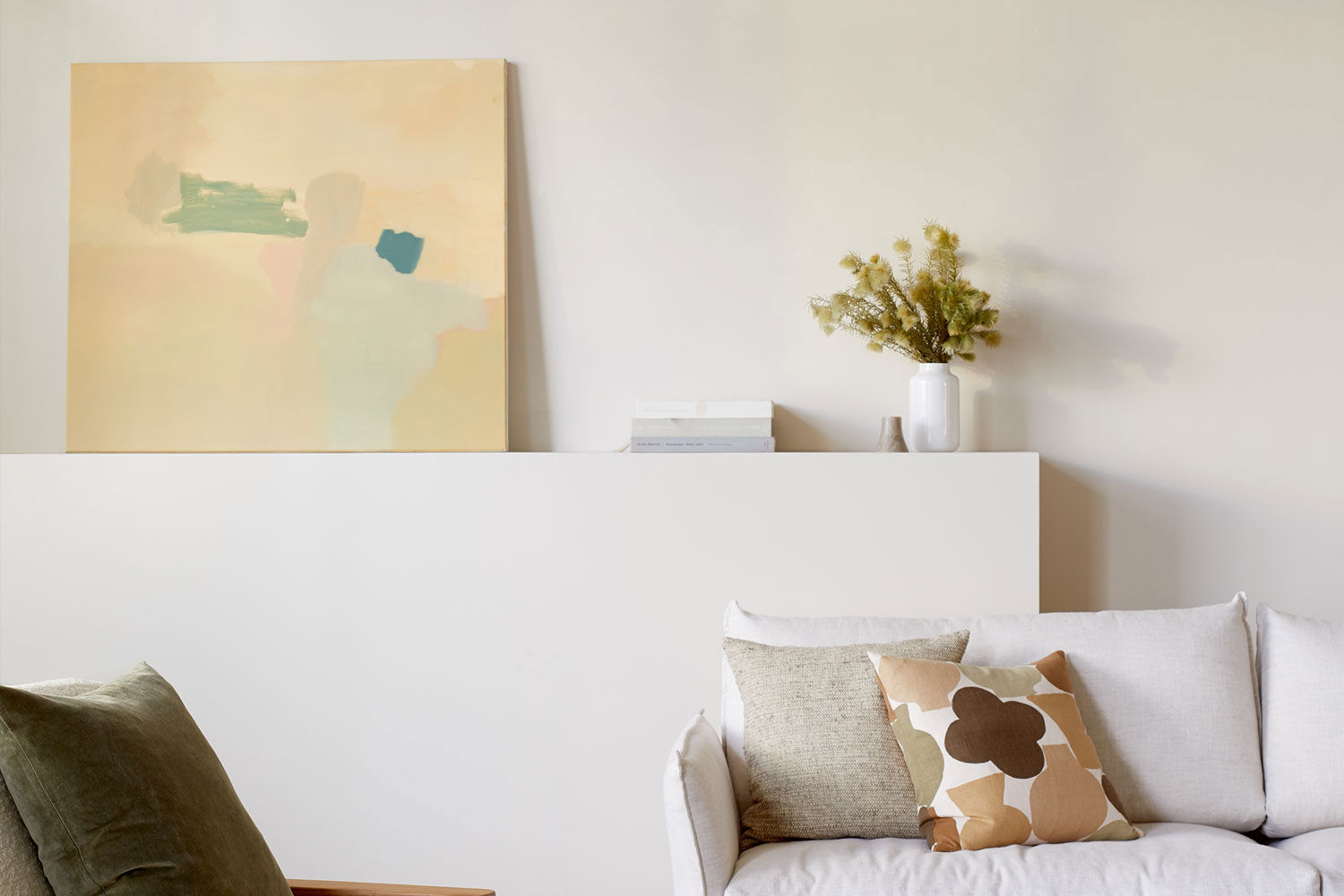 Q&A: We chat to Auckland artist Andrea Bolima
Andrea Bolima is an Auckland-based visual artist who explores colour and form in her beautiful oil on canvas artworks. Andrea has been shortlisted for the 2021 Molly Morpeth Canaday Award and some of her works will be exhibited through Föenander Galleries at the upcoming Auckland Art Fair.
Our Sunday Afternoon SS20/21 photoshoot was styled with some of Andrea's recent pieces. We were drawn to her warm tones and technique. Her unique style complemented the simple aesthetic of our collection and helped to create relaxed, inspiring spaces.
We asked Andrea about her career, creative process and what she loves about being an artist.
Hi Andrea! Tell us about yourself and what you do.
I'm Andrea and I'm an artist. I live and work in Auckland. I'm the eldest sibling—my sister is 21 and I'm 29. I like listening to '90s pop music, but at the moment I'm really digging Haim's new album, Women in Music Pt. III. I was a ballerina when I was six years old, but I fell over and broke my spine. I had to wear a back brace for a bit so I thought I'd paint instead.
How did you first get into painting?
I used to draw and paint on the walls at my grandparent's house, where I spent most of my childhood. This became a nuisance so they bought me some art supplies. I started drawing on paper and things developed from there.
Can you talk us through your creative process?
I like starting from scratch. I put together the frames and stretch my own canvas. I then prime the canvas with layers of gesso. I also only start with primary colours red, blue and yellow, and sometimes white. I like being able to make up heaps of colours as I go.
If you had three words to describe your style, what would you say?
Colours on canvas.
Do you have an artwork you're most proud of?
Yes, I did the below painting [Sea Salt Haze] at the start of the year and it's a transitional point from the works I've been working on last year. It gives me a good sense of direction.
What is the best part of what you do?
I like being able to make something out of nothing. Even though all art is derivative and nothing is original, it doesn't feel like it when I'm painting.
Finally, your beautiful art was styled in our Sunday Afternoon 20/21 photoshoot. What does your perfect summer Sunday afternoon look like?
Inside a cabin in a forest somewhere.
Follow Andrea Bolima on Instagram to discover more of her work. Föenander Galleries will be exhibiting a selection of her works at the upcoming Auckland Art Fair from 24-28 February at The Cloud.